Writer's note: I sincerely thank anybody who will take the time to read this post. May I warn you that it will be a boring recap of my weekend. There may be some insight into my psyche, but I'm not making any promises... No offense will be taken if you stop reading now.... Thanks.
This week I worked an extra hour Monday through Thursday. Although I usually work more than 40 hours a week, this "extra" effort was with the sole intention of taking advantage of my employer's "summer hours" benefit (Between Memorial Day and Labor Day if you work 40 hours in a week by noon on Friday you can take Friday afternoon off).
I had scheduled the sixth of my six private golf lessons for 3:30 Friday afternoon. Not wanting to go home before doubling-back to Glenview I stayed in the office an extra two plus hours.
-not doing any work mind you-
I used the hours to put the finishing touches on my latest gaming operation:
It's a very successful pool. Well beyond expectations such a niche sport would offer.
(no further comment on my last golf lesson necessary, it was rather non important)
Friday evening was reserved in my social calendar for the Taste of Des Plaines.
Sadly, I only saw two people wearing these shirts:
However, the night was a great success (for me).
I met a stranger off the Internet.
Now this will be shock to most who know me: this was with ZERO romantic context. Yes, I have been known to meet many strange women under romantic contexts initially introduced via the World Wide Web.
No, not this time.
This was a married man met under the context of a shared interest:
The Big Lebowski
.
(May I go on record that I believe meeting a married man who happens to love a movie I also love to be infinitely more odd and creepy than my misguided pursuits for love.
Regardless, the man I met (along with his wife) may join me for my trek to Louisville next month for Lebowski Fest. It's going to be a tough solo journey, which makes anybody I can meet before hand a bonus. I'll probably feel more comfortable going to the official "meet-up" next Saturday knowing he'll be there too.
But he left soon (THANKFULLY) as other people I knew had arrived to the TASTE.
His (the stranger) departure may have been influenced by a rapid fire quote session from a movie he may not have been as familiar with (Michael Mann's LA crime saga masterpiece
Heat
).
So with the stranger out of the picture, I joined my crew of Des Plaines diehards. I need to make special mention that I would know none of these people without MySister. The following is a circle of friends who have all known MySister before me, and I was able to hijack my way into their friendship:
Brian / Deke (allowed spellings also include DiC) / Billy
Dennis
Dave
his girlfriend (and also my next door neighbor) Rebecca
Nate
Bridget
along with her husband (and one of the people that taught me poker) John (pictured here)
and HERBO!
This is Herbo:
"Herbo" is actually named Shawn. However, when I met him my sophomore year at Marquette (his freshman year), he was introduced to me as Herbo.
When Herbo bicycled up to me at the TASTE, I called out to my old acquaintance "HERBO."
Which significantly shocked John.
Turn out, John's younger brother (who has passed away earlier this year ) was the one who coined the "Herbo" nickname after a man who both John and his brother met one year in Fort Lauderdale, Florida.
This instance of me calling out "Herbo" (when he had no prior knowledge that I had known Herbo previously) had visibly shocked him. It was an odd legacy of his late brother that he did not expect. It made me feel slightly poignant... all I could muster was corny "small world" sentiment.
Taste of Des Plaines was a success due to the people who showed up, as the above tale demonstrates. Sadly, that was all the Taste was good for. I didn't go to the rain soaked Saturday events, and the better food that I, and others, sampled was actually from Mount Prospect (not Des Plaines!).
____
Saturday's activities were dominated by golf.
I spent over 5 hours with two of my good friends.
We went to Indian Boundary (one of the Forest Preserve courses).
My friend Stefan shot a career best.
My friend Brian shot his last round on his first set of clubs (he's awaiting the delivery of his new set)
And I - I shaved another 20+ strokes off my score (and there's a LOT of room for further improvement).
The notable story from the round of golf isn't golf related. In fact, it's not really a story but an isolated comment.
Somewhere on the back 9 Brian asked me:
"How's the hunt?"
I've really only heard this question in reference to job hunting. Being happily employed, I was confused and asked for further clarification of what he was asking.
(He was asking about my quest for love)
I politely told him I was taking some time off from dating.
Which is true.
Honestly, I can't afford to take up golf and start shelling out first date money.
But the term "hunt" has really itched my sub-conscience ever since...
Others have accused me as being a serial dater.
Many have wondered if I enjoy "the pursuit" more than any discovery.
Everybody has failed to realize that I am a horrible suitor with enough excess baggage to cripple a prop-jet and lack the needed class/finesse/"game"/and overall suave that is needed in fostering and maintaining a meaningful romantic relationship. Although I am (by all reviews, acquaintances and encounters of my past would verify) a nice guy - there are elements of immaturity and selfishness that seem paramount in my difficulties.
A recently married friend, by the name of Ryan, has recently declared that I have an overtly romantic view of the institution of Marriage. I hope this is the reason for my unsuccessful hunt. Both for the reasons that the perfect girl has yet to prove Ryan wrong - or me wrong.
____
Sunday was a very relaxing day spent mostly with my parents. They allowed me to use their laundry faculties and their couch as I convinced them to turn off Cable Politics for some good old fashioned Euro 2008 (as previously mentioned VERY PREVIOUSLY).
My dad cooked hamburgers outside on the grill. I drank milk. My Mom lectured me that I need to use sunscreen when I golf. We talked about Fathers Day next weekend. All in all, you could hire a painter to commemorate the event. The scene I'd want illustrated: Yours truly figuring out the speed dial functionality on their cordless phone and programming in all six total numbers of MySister and I.
Finally, tonight I finally made a decision on my "AT HOME" Net Flix options.
On May 7th the following movies arrived at my residence: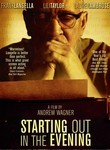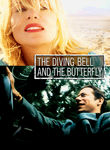 Tonight I watched
The Diving Bell and the Butterfly
.
And, upon the recommendation of my friend Stefan, "tagged and bagged"
Starting Out in the Evening
.
FYI: "Tagged and Bagged" is the returning a Net Flix film UNWATCHED. Two out of the last four movies I have received have met this fate (the other one was
Lions for Lambs
.
----
And that's my unabridged weekend. Both what I did and what I thought. If you're still with me... wow...