I can't recommend playing the below YouTube clip for background audio enough!
Sunday August 3, 2008:
Noon - The time my friend Ryan was going to arrive at my condo.
12:15 - The time I actually woke up.
12:25 - I answer the door and Ryan holds back laughter because although I am dressed, I still have sopping wet hair from the shower.
12:30ish - Finally hit the road, We're takin the 'Rolla cause it's used to I-65 due to the Lebowski Fest Adventure
4:30 Local Time, which is an hour ahead of Chicago - Ryan pays for Food and Fuel...
This is a great deal for both of us… I got these tickets for free (a Christmas gift from my boss).
5:30 - Thanks to my Dad's Aftermarket GPS device, we find our way without much hassle to the parking lot and walk to stand in line outside the gates.
We were both hoping for an "older" crowd. In other words, a scene to not make us feel old.. We were right in the majority as far as age. A sea of people who either rocked to The Bends in Junior High, were mesmerized by OK Computer in high school or defended Kid A in college… (Maybe most did all 3).
I don't know why I was surprised by the fact that most women at the show could be lopped into the unassuming "hippie" category… It makes perfect sense. Hip music fronted by a very eco-friendly message.
The runner up for oddest wardrobe accessory went to the man directly behind me in line to get into the venue. He asked me a question and when I turned to ask him I realized that he was wearing a former favorite product of mine when I used to work at a toy store.
The outside of the sunglasses' lenses are mirrors, which allow the wearer to see what's behind your head without looking back. I instantly called him on it. The guy he's with confirmed my suspicion laughing that they belong to his son. I laughed too, asking if he planned on watching the show with his back to the stage…
Speaking of back to the stage, I'll get to the number one fashion highlight in a bit – but first my personal fashion addition…
The Radiohead Tour T-Shirt is $40. Part of the reason for the high expense is because the shirt is made from 100% certified recycled plastic PET bottles and certified organic cotton. Whatever, I was already ahead on the ticket and gas to get there – so I got it. (actually, I'm a tad ashamed to admit I got two different ones, one white one black of different quotes).

I decided to pass on a T-Shirt for the opening act Grizzly Bear. That shirt was $30. "Who do they think they are?" I asked Ryan.
6:40 – Now that the gates have opened, and we've got our $40 shirts, Ryan and I find a place on the lawn directly in line with the center of the stage… Although some 400 yards away…
Killing the next 50 minutes was a tough task for Ryan and I… It consisted, on my part, of trying to block the setting sun's rays to my left and the very public display of affection from a couple ahead of me to the right while reading the text crawl on the jumbotron ahead. This scrolling text was somewhat entertaining. People could text a message like "OBAMA / YORKE 2008" and see it scroll across in big lights. Some of them were horrible to read (i.e. OHIO STATE FOOTBALL FOREVER), some where unimaginative (MCCAIN IS EVIL), some were borderline funny (JIM, IM PREGNANT)… Every once in a while I'd laugh (STEVE HOLT!) or be impressed (WHENIGOFORWARDSYOUGOBACKWARDSANDSANDSOMEWHEREWEWILLMEET).
7:15ish – The Publicly In Love Couple stand up to leave and buy either a cold beverage or birth control when I notice the number one odd wardrobe accessory. The guy was wearing a cycling cap – although it didn't look as cool as this: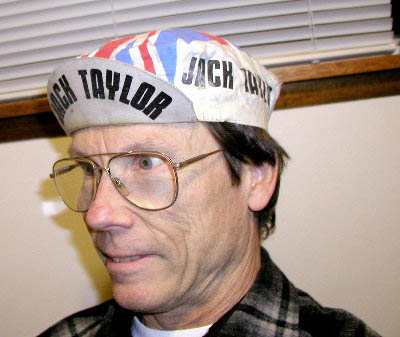 It shocked me because I couldn't understand why some guy would want to wear that let alone why a girl would want to be with a guy that would wear that. Hey buddy, the Tour de France ended last month.
7:30 – Grizzly Bear begins their unremarkable, yet serviceable, set… Lasting less than 45 minutes, no complaints.
8ish - The stage is equipped with what appears to be gigantic wind chimes. However, later we realize that they are gigantic L.E.D. lights.
Not only did these provide a visual element never before matched at a live concert, but also they fell in line with their eco-friendly message. These served as the only stage lights, which used less energy than normal bulbed stage spotlights.
More info here from Element Labs, who made these lights for Radiohead
8:40 - Radiohead's appearance is imminent. We all stand. A crew of three some 20 feet ahead stretch and turn around. One of them sees my ACHIEVER shirt and yells, "Hey! Achiever! Hey Yeah!" I respond, "And a good day to you sir!" They respond with laugher and before they turn around yell "The Dude Abides!" Ryan asks me if that was a Lebowski exchange. It confirms in his mind that he was right to tell his wife on the phone a half hour earlier that they need to add the 1998 Coen Bros. masterpiece to their Rental Queue.
8:45 - Radiohead's set begins with the first track off
In Rainbows
"15 Step" The second song, "Bodysnatchers" is the source material for all the quotes on those $40 shirts earlier mentioned. My first
yes, thank god they're playing this
of the night was their third song of the set "There, There." Nothing, not even the cycling cap dude deciding to turn his back to the stage for a full-on-grab-her-head-make-out kiss, was able to disrupt my level of enjoyment during this song.
The set was focused on their recent album, which is to be expected. However, to zero complaints to yours truly because I love that album. Do yourself a favor and pick up
In Rainbows
if you don't already have a copy.
Older songs included "Climbing Up The Walls" and "Karma Police" from the album I'd want to be stranded on a desert island with:
OK Computer
.
Over two hours later their performance was over and I was still in awe. I will easily be willing to pay over $100 to see them perform again... And I'll probably have to.
1:30 AM Local (back into the Central Time Zone) - I'm home - at a much earlier them than I initially anticipated. I had a somewhat heavy foot through the Indiana County backroad shortcut led by my Dad's GPS.
And that's pretty much the story.
Also, allow me to add that the weather was perfect. A high 70s temp, slight wind, clear skies with not even a thought of rain. Seriously, it could not have been better.
If you didn't listen to the above YouTube, please consider the clip at the very bottom of this post - it's probably the best YouTube representation of their show: